From the start at Old Home Manor Park in the Town of Chino Valley there is a slight steady climb for the first 8.7 miles. The remainder of the out portion of the 42 mile out and back course is almost all downhill to the turnaround at Aid Station 1/3.
The first 1.25 miles after the start is pavement. When the pavement ends you transition into the worst section of washboard of the entire course.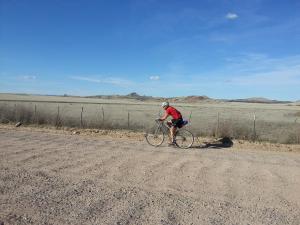 After 3/4 of a mile this section is over and from mile 2.0 up to the cattle guard at 5.7 miles their are some spotty sections of washboard along with some smooth fast sections. After crossing the cattle guard the texture of the road noticeably changes and continues to get smoother. At  mile 7.5 you will pass by Blissful Path road, this signifies just slightly over one mile to the crest of the climb. At 8.7 miles into the course you will cross another cattle guard. This is the start of the almost continuous downhill into Perkinsville and Aid Station 1/3. There are some rollers that you can easily power up keeping your momentum.
13.5 miles from the start begins a very fast section. Big ring full out for almost the next three miles. At mile 16.3 you'll come up on an off camber sweeping right turn. Stay to the inside on the turn, smoother and if you go wide to the outside it is off camber hardpack with a nice coating of marble size loose rock. Remember that roads are open to cars so stay on your side of the road! At mile 16.7, while descending a steep downhill, is a very hard left turn with some rough stuff. From that point its all out to the STOP sign at mile 20. After making a right continue on for 1 mile crossing the Verde River (rough slight rigt corner just before river) to AID 1/3.
For the return to Chino Valley keep in mind that the Perkinsville Road has mile markers posted for each mile. Mile marker 10 denotes the crest of the climb. Once you hit that cattle guard as mentioned previously there are just 8.7 slightly downhill miles remaining and you will have finished the Chino Grinder.