This post was written by John Camoriano about his experience as a member, along with his teammate Phil Panipinto, of a two man relay team at the 2015 Chino Grinder. John is an accomplished cyclist and triathlete who currently rides for Two Wheel Jones Racing.
After watching the hordes of cross bikers, single speeders, and mountain bikers take off with my buddy Phil at the start of the Chino Grinder in the Town of Chino Valley I moseyed back to my car sipping a black cup of steaming coffee.  I was grateful that I was able to take in the clean, cool air north of Prescott instead of the gravel dust that my partner was taking in at that very moment en route to the City of Williams about 50 miles away.  How ironic, I mused, that I grew up in Nebraska and Minnesota yet my first gravel race was to be in Arizona.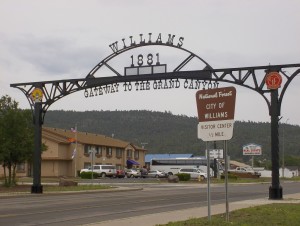 Hitting the GPS button on my phone I eased the car east before tooling northward in the grasslands of upper Arizona where, literally, the deer and the pronghorn antelope were playing.  Having never taken that back route to Williams I was amazed at beauty of the region and wondered briefly if the Arizona Highways Magazine would pay me money for the iPhone photos I was taking from my car window.
It was about an hour later that I entered the parking lot of the Elk Ridge Ski Area in Williams Arizona, just up the hill from that quaint town with its collection of Harley Riders, local eateries and the train station to the Grand Canyon rail tours.  The place was empty except for a few short wave radio guys and some food vendors who were setting up to support the throngs of riders still more than 30 miles south of us.
I set up my laptop in the sunlit dining hall of the Ski resort and made small talk with the proprietress/owner who was lamenting the lack of snow in these last few years.  Eventually another rider with her jersey and number entered the hall and we made eye contact.  It turned out she was the only other duo team member of the only other duo relay team to be awaiting her incoming rider.
We sat dumbfounded that such a well-attended and well-run race had so many people willing to ride the 100+ miles of round trip gravel when there was a perfectly suitable alternative; the one we had picked of the relay team.  Realizing that she was on a coed team and I was on a men's only team we both relaxed knowing that we were not really competing with each other.  We chuckled at our good fortune of riding the return leg of this Century given that the bulk of climbing was on the inbound leg.  Little did we know at the time that there were some formidable hills on the return leg too.
After a lazy morning of bagels, more coffee and tinkering with my bike the first riders started emerging from the pines and entering the turn-around point in the parking lot. Two members of the Raleigh Clément Professional Cycling Team were the leaders but within 5 minutes, our local fast guys (and gals) started showing up.  My friend Phil, a strong rider in his own right, was not in the same league with this lean group of overachievers but then I began to realize that Phil was about to finish his day on the bike whereas these folks were all turning around to go back to Chino.  Phil would not be saving anything for the return trip but they would.  I hurried up to snap on my bike shoes and take a GU Energy Gel and it was none-to-soon.  Phil rounded the corner and passed his baton to me which I grabbed and started my own journey down the mountain.
I felt like a god among mortals at this point.  The dirt and grime and sweat encrusted riders who were turning around to head back were in stark contrast to my crisp and clean jersey and fresh legs.  I began to pass folks right and left and noted an endless stream of others still on their upward trek, faces strained with hope and fear that the turnaround was either close or farther than they wanted.  They say that "Pride comes before a fall" and that was my undoing.  I had a flat tire on the pavement.  I fixed it got rolling again and then flatted the other tire.  Thanks to the excellent support of the race promoters a bike shop truck just happened by me as I had my second flat and they provided me with the support to get going again.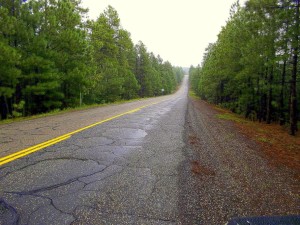 Eventually I paired up with a strong rider who took turns with me drafting and pulling down the amazingly car-less, stretch of paved road heading 15 miles downhill before turning into gravel.
Not having ridden longer than 2 hours in training for the previous 4 to 5 months, this choice of a one-way half-century seemed perfect for me.  I anticipated remaining strong for the entire route.  I was mistaken.  Soon, the gravel started and the punchy hills that were all supposed to be downhills started hitting me in the legs.  We crossed a sizable river on a suspension bridge and cattle were wandering across the road in places.  I became more and more amazed at the beauty of the region but also of the strength of those who had just endured the pain of coming UP this route before turning around.  My lips became parched despite the ample water I brought.  The hills began to wear me down and just as I was beginning to bonk a couple in a Volkswagen Jetta waved me down and gave me an ice-cold coke that I gratefully guzzled down providing renewed legs to trudge on.
Towards the last 5 to 10 miles I passed Larry DeMik from the Gilbert Two Wheel Jones store who seemed shocked that me, a man 20 years his senior had caught him.  I did not let on that I was only doing half his distance.  I pulled away from Larry and thought I had been done with him when I spied his intense face bearing down on me from behind.  We had both hit the last stretch of flat gravel that arcs westward to the finish just as a prairie tail wind picked up and literally blew us back to base.  The wind was so strong that despite our speeds of 35 mph there were tumbleweeds that rolled by us as if they too were racing for a podium spot. I was no match for Larry's young legs and he eventually caught me but I grabbed his wheel as we careened towards Chino and the cold beers that awaited us. Later we each were blessed to get Strava KOMs on that stretch of windswept roads, me first and then when Larry downloaded his data he edged me out.
This was my first gravel race.  Hell, this was actually only my second gravel ride.  I was hooked and decided the Chino Grinder needed to be on my yearly calendar…. as long as I got to do the return leg of a relay team.