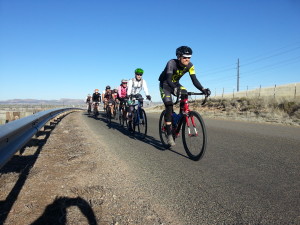 1. Train – the fastest folks will finish in just over 5 hours but the rest of us will be on the bike for 7 to 8 hours. Ride your bike, concentrate on getting one long ride in per weekend. Try to pre-ride the course, if you can't do the full course at least take in the dirt section. Bike Prescott and Riding AZ Gravel do numerous rides on the same roads used by the Chino Grinder.
2. Tires – Don't ride anything smaller than a 32mm tire, the 35mm seems to be the most common tire run at Chino. Personally, I like running a 40mm up front and 35mm in the rear. Do a few training rides on the tires you plan on running at the event!
3. Pace – Don't over do it! It's going to be a long day on the bike, 108 miles with nearly 10K of climbing. Every year we have a number of experienced cyclist get to the paved climb (30 miles from the start) and abandon because they started to fast.
4. Ride on gravel/dirt – Be sure do some training on dirt and gravel roads. 64 Miles of the 108 mile Chino Grinder are dirt and gravel roads, being comfortable on the dirt sections will pay dividends come event day.
5. Be prepared – master chain link, spare tubes(2), multi tool, chain break tool, tire levers, pump/ CO2, cell phone, sun screen, patch kit and warm gear (course goes above 7800 ft at highest point!).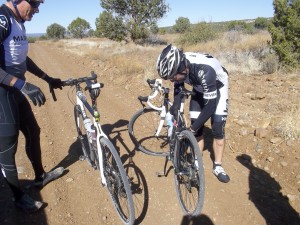 6. Eat and Drink – There are five aid stations. Take advantage of them. You'll need to consume 200 to 300 calories per hour. Nothing worse than that depleted feeling in the final miles before the finish line.
7. Chain lube – Don't skimp on the chain lube. The usually dry dusty conditions of the dirt sections wreak havoc on your chain, if there is mud even more so.
8. Bottle cages – This is not the event for a super light flimsy cage. Do some research, I use a stainless steel cage made by Delta Cycles and have never lost a bottle let alone broke a cage.
9. Your rig – Make sure you test your setup before May 6th. Proper bike fit is essential as it increases comfort, speed and efficiency. Check out the section "Lessons Learned" of Kit Plummer's experiences at the 2015 Chino Grinder. If you haven't had a bike fit you might consider contacting one of our sponsoring bike shops for an evaluation.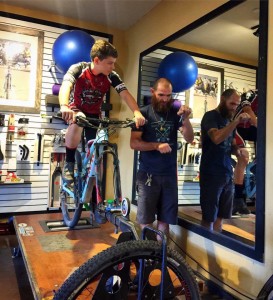 10. Enjoy the experience – Look around and take in what's around you. You'll notice some really awesome scenery and ride with some extraordinary people and above all make time for the bacon and Untapped waffles and syrup at the aid station at Elk Ridge Ski Area.