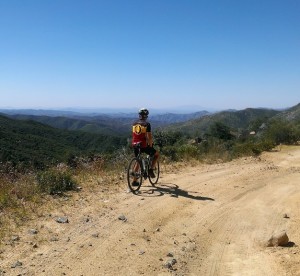 In gravel cycling a bike set up for one event may be less than optimal for another. This is case with the Bradshaw Grinder and the Chino Grinder. Although just miles apart, the roads encountered in the Bradshaw course are radically different than those found on the Chino course.
The Chino course is wider, with few twists and turns, and 40% of the course is paved. Although containing nearly 10K of climbing over 106 miles it would not be considered a true climbers course. Bradshaw on the other hand has 10K of climbing in just 59 miles, with all but three miles on dirt roads. The roads are narrow and twist and turn as they snake through the southern Bradshaw Mountain Range. Thus, the two most important areas of set up are tires and gearing.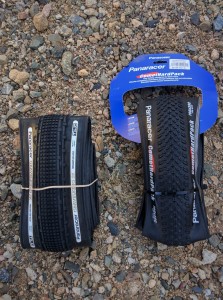 Tire choice is critical and for a cross/gravel rig and we recommend a minimum width of 35mm, for a mountain bike nothing wider than a 45mm. The profile and width of a tire similar to the Panaracer Comet Hardpack 38c is perfect for the front tire and a good choice for the rear although a better choice for the back would be a tire similar to the Panaracer Gravelking 40mm. Experiment with the psi but a typical 175lbs rider would use 36psi in the front and 40psi for the rear. This combo seems to hook up well on both the descents and the climbs.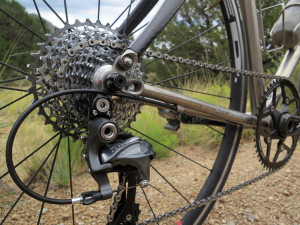 The Bradshaw Grinder course contains numerous climbs that would be rated Hors catégorie (beyond categorization) or incredibly difficult climbs if this was a "road" cycling event. For us cycling mortals these climbs need to be given some special consideration. The Chino course contains several long sections where you could spinout a 50X11, the Bradshaw has only one short section just before the finish. For a Cross/Gravel bike, assuming a 50/34 compact crank, the minimum recommended cassette range would be a 11X36. Wolf Tooth Components has an excellent article on this subject(http://www.wolftoothcomponents.com/pages/roadlink-tech-page) and luckily they make the Roadlink which can save you the need
to swap out the rear derailuer to accomodate the taller gears on the cassette (up to an 11X40!). No worries about needing taller gears for mountain bikes, as I mentioned there are no long stretches where you could spinout.
Any of the sponsoring bike shops (Exhale Bikes, VeloZoom and Spur Cross Cycles) of the Bradshaw Grinder are familiar with this setup and can offer advice or assistance in setup. Hope this helps and if your are looking for a test ride check out the first 10 miles of the Bradshaw Grinder. There are two major climbs plus a third that is off the charts!